Look What the Mailman Brought Me
I have a few favorite blogs that I visit routinely. One of these are:
http://faerieluna.blogspot.com/
. I love Cindy (
Rella's
)profile: Scorpio, Year of the Snake Mixed media artist,(love to trade) cafe owner, oddly curious-always learning,somewhere in the middle sojourner, wondering what is next.
Anyway... Miss
Rella
, from time to time, will have "gift"-aways of her creations. Of course I always have to sign up... and this time I was so excited to see my name on her blog as a winner.
I was so fortunate to receive Miss
Tulla
, a messenger
faery
, that is forever bringing notes back and forth from her sister
faes
. And now Miss
Tulla
has landed in my home... and she had several special messages behind her back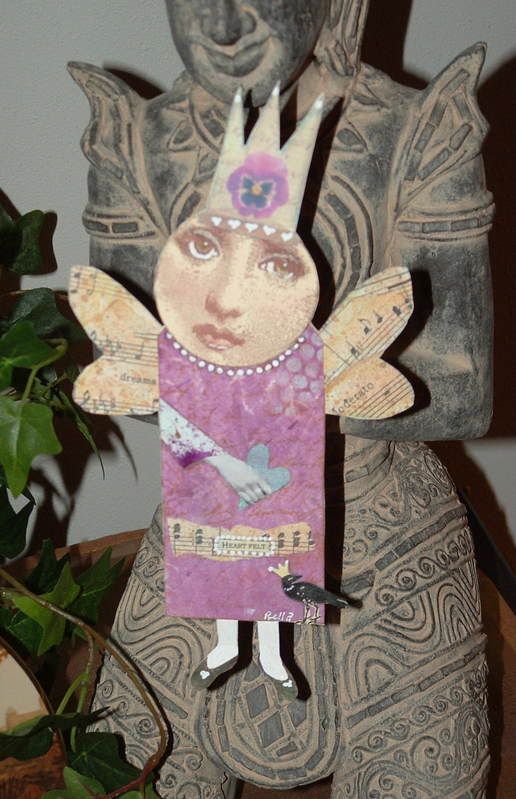 And I received a very inspirational email from Cindy...which contained a fantastic idea. "
I also participate in Found Art which is a simple format of leaving little pieces of art here and there for someone to find and be delighted or cheered up that day. So, this is what I ask of you, dear new friend. Make a little bookmark, an

ATC

, whatever and just leave it somewhere(the library, coffee shop, ladies room in your favorite restaurant, you get the picture) to bring a bit of joy to someone else. On the back, make it quite clear that it was left for the simple delight of the 'finder'.......... you need not put your name as it's more fun (and safer) to remain anonymous."
Isn't that a great idea...
So... tonight I'm making a few
ATC's
. I know a couple of places where I'm going to hide them. I hope that the finder will be as happy to discover them as I was in receiving Miss
Tulla
.