Pineapple Upside-Down Cakes
Today before I went off to my massage appointment, I was flipping through the TV channels. I came across a program on PBS called "Real Simple". Now, I love their magazine, but I didn't know they had a television show.
To my surprise, they had a little feature on how you can use up hamburger and hotdog buns. Needless to say I was somewhat skeptical about the bun not tasting like a bun.
But.... I was willing to give one of the recipes a try. I chose the Pineapple Upside-Down Cakes using up the hamburger buns I had left the other night.
Here's the recipe:
4 tablespoons unsalted butter
2/3 cup light brown sugar
4 round pineapple slices (canned or fresh), 1/4 inch thick
2 hamburger buns, split
Vanilla ice cream (optional)
Heat oven to 350? F. In a large ovenproof skillet, over medium heat, melt the butter. Add the sugar and cook, stirring constantly, for 1 minute. Remove from heat. Arrange the pineapple slices in a single layer in the skillet. Top each slice with half a bun, cut-side down. Bake for 30 minutes. Let cool 5 minutes. With a spatula, invert each cake onto an individual plate. Serve with the ice cream, if desired.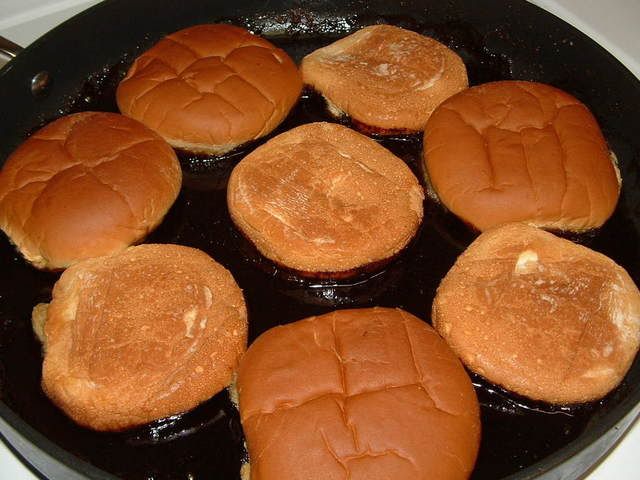 This yields 4........ however... I doubled the recipe since I had 4 buns left.
I also used dark brown sugar... because I didn't want to open up the light brown sugar.
Now... I must say I was amazingly surprised. These do not taste like hamburger buns at all. It actually tastes like cake. Hubby also tried it... and he was amaze too.
So... if you have some hamburger buns laying around... instead of throwing them out to the birds... just think, you could be enjoying this: