A Farmers Market Dinner
There are things I like about Summer; beautiful flowers, flickering fireflies, the laughter of children as they splash in a pool, the sound of ice cubes clinking in a tall frosted glass of ice tea and of course the arrival of the Farmers Market.
In downtown Dayton, the Farmers set up a display at Courthouse Square at 3:00 pm. The workers slowly emerge from the artic cubes of their office and brave the 95 degree heat. But even though it's hot and humid... everyone seems to be smiling.
Fingertips glide over the ripe produce, fruits are lifted to nostrils to savor the sweet smells of summer and the farmer's tease your tongue by offering you a bite of their wares.
Even the one-eyed German Baptist Man can entice you to step closer...his tables piled high with cabbages and brussel sprouts, homemade jams and jellies... and the cutest angel food cakes.
So.. in honor of those Farmers that produce such delectable treats ...tonights dinner came straight from the Farmers Market.
Tomatoes, Silver Queen Corn and Walla Walla Onions were carefully selected at the Market this Monday. The pork chop is encrusted with cinnamon, chili powder, sea salt and lemon pepper... and was a savory contrast to the sweetness of the corn and tomato.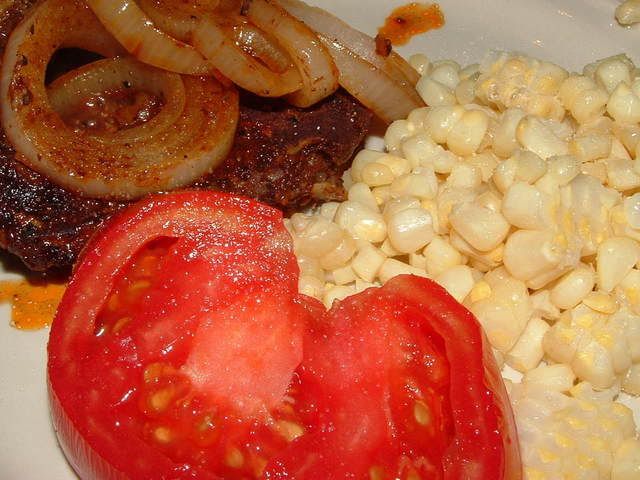 Have you stopped by your Farmers Market yet?