Banana Bread - A Sunday Treat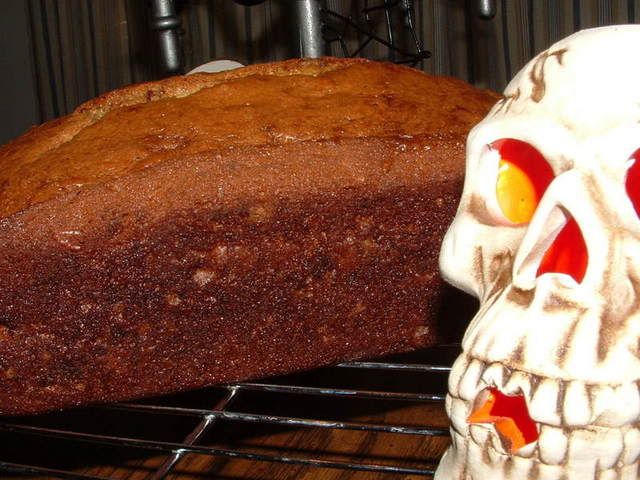 I woke up this morning, the temp. in the house had fallen to 65 degrees. We haven't turned on the heat yet because of the unseasonably warm temperatures (can we say global warning HERE). So... I had a few bananas ripe and ready to be used in bread.
INGREDIENTS
1/2 cup butter (1 stick)
1 cup granulated sugar
2 large eggs
1 1/2 cups flour
1 teaspoon baking soda
1 teaspoon salt
1 cup mashed very ripe bananas
1/2 cup sour cream
1 teaspoon vanilla
1/2 cup chopped pecans.
DIRECTIONS
Preheat over to 350 degrees. Butter a loaf pan (9x5x3). Cream butter and sugar until light and fluffy. Add eggs and mix together.
In another bowl, whisk together flour, baking soda and salt. Add to the butter mixture and mix until just combined. Add banans, sour cream and vanilla, mix to combine. Stir in nuts and pour into prepared pan.
Bake until a cake tester comes out clean which is about 1 hour and 10 minutes. Let rest in pan for 10 minutes and then turn out and place on a rack to cool.
~~~~~~~~~~~~~~~~~~~~~~~~~~~~~~~~~~~~~~~~~~~~~~~~~~~~~~~~~~~~~~~~~~~~~
Now... I had a little more bananas then 1 cup, and since I only used a 1/2 stick of butter (and yes... I fix this recipe often so I should know it by heart) as I saw the 1/2 cup but my eyes read 1/2 stick.... it still turned out moist and rich.
This is my favorite recipe for banana bread.... not too full of bananas... and if you butter the pan heavily... it forms a nice brown crust... which we fight for at this house.
Enjoy!