Mondays also Suck. . .
Or at least they do when you are coming back to work having been off two days for being sick and you still don't feel very good and the back of your neck hurts and you're afraid that maybe you have contacted that brain disease where you can't bend your neck so you keep bending your neck to see if you can bend it but it hurts and maybe it hurts now because you're bending it so much. And although I wasn't at work, my clients were calling me... so besides just doing today's work... I also have Thursday and Friday's work to do. Not to mention that I'm serving on a Christmas luncheon committee for a holiday carry-in that will be next Tuesday and we have all this stuff to do and I sat at the meeting listening and listening... and now I have to register participants for a bake-off... plus decide what I'm going to bring. And our department carry-in is this Thursday (happy early christmas ho ho fuck you bah humbug eat shit) and I have to locate a white elephant and wrap it and decide what I'm going to make and then make it.
So today, December 3rd, sucked. I was rushed all day, seemed more confused as the day went, was totally surrounded by idiotic assholes... but now the clock strikes 12... and a new day has begun.
Oh.............. and to kick the new day off............nothing like a little canned extra creamy whipped topping.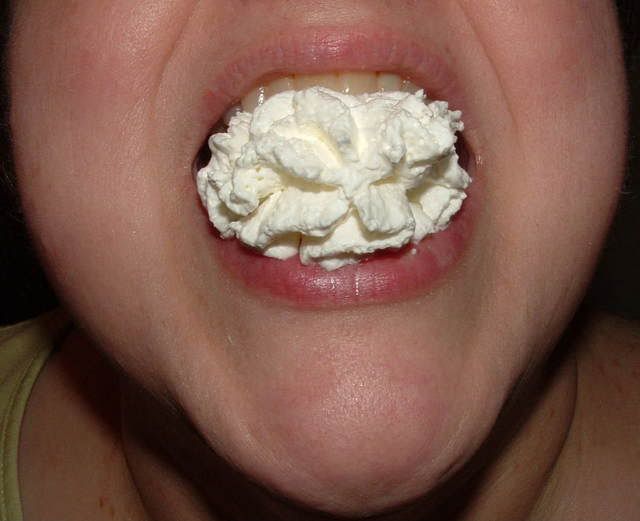 I'm pretty sure this does count for calcium intake doesn't it?