A Fast and Productive Weekend
It started on Friday night. They finally determined what was causing the flooding in our hallway. So when I came home from work, everything from my pantry was sitting on the kitchen table. The carpet was pulled back, the wet matting had been removed and an industrial fan was blowing away.
So... I came home from work, to work. It took several hours to pick up the mess and organize the house for the weekend. On Monday, they will replace the padding, steam the carpet... and hopefully hubby will put everything away.
Saturday we went to the movies. The boys went to "Aliens vs. Predator" but I went to "Juno". "Juno" is an excellent movie. The theatre was packed... and at the end of the movie, everyone applauded.
Today Melissa and Audrey came over after lunch and we went to Cord Camera to work on projects (my house was too messed up to craft at home). My goal was to create a scrapbook for a friend at work. Her birthday was several months ago and she gave me pictures of their family's trip to North Carolina. I'm happy to say that I was able to start and finish the album this afternoon.
Here's a sample of one of the layouts: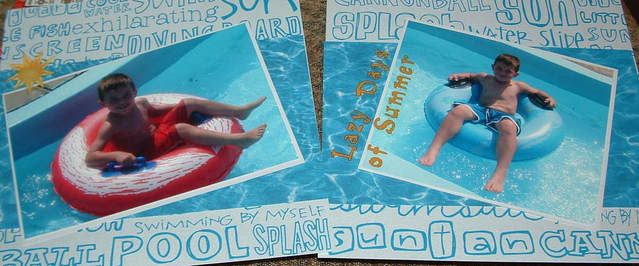 I have to be in the mood to scrapbook anymore. I also needed to get this album finished since Tina's birthday was months ago. I hope she will be happy with all the layouts.
Well... I hope everyone had a great weekend. The night is becoming very, very cold and windy. Although it's January, it has been so warm lately... you almost think that Spring is on its way. I just hope we don't get much snow tonight.